Marching Band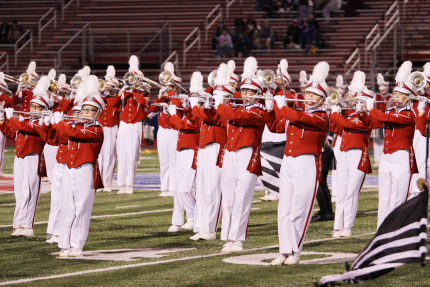 This year's marching band consists of 257 outstanding members which consists of 180 brass and woodwind players, 40 percussionists, 33 color guard, and 4 field commanders. This year's band is under the direction of field commanders Kelsey Heacock, Samuel Nickoloff, Leah Ranney, and Shelby Brown.
This year's show is entitled "Coming Full Circle". The show opens with a great orchestral classic by Morton Gould, American Salute which is based on When Johnny Comes Marching Home. The second movement is Bring Him Home, a tune from the popular show Les Misérables, sure to be a classic Grove City ballad. This will feature one of our many fine trumpet soloists. The third movement features the percussion section while also showcasing the technical abilities of our students with Robert Sheldon's, Velocity. The final movement of our show uses another orchestral masterpiece, Aaron Copland's Appalachian Spring, along with a few other surprises along the way. We hope you enjoy this year's contest show, Coming Full Circle.
The Grove City High School Marching Band has won over 90 grand champion awards during the last twenty-five years in OMEA competitions as well as regional and national events. Accomplishments this past season include four OMEA Contest Grand Champions, a State OMEA Marching Band Superior, straight superior ratings at District and State Concert Band Contests with all three concert bands, and an outstanding performance on January 2 nd , 2017 at the 128 th Tournament of Roses Parade!
In the last several years, our distinguished band program has been seen across the nation at many national and international events: 2015 Wishes Spectacular Nighttime Parade at the Magic Kingdom, Fiesta Bowl National Band Champions in 2012, Grand Champions of the 2009 Fiesta Bowl Parade, Honor Band at the West Virginia Strawberry Parade, the 2005 London, England New Year's Day Parade, the 2017, 2000 and 1990 Tournament of Roses Parades, the 2002 and 1996 Mid-West International Band and Orchestra Clinics in Chicago, and the 2002 and 1997 MGM Music Fest Orlando Band Competitions.
Symphonic & Concert Bands
The Symphonic Band has consistently received superior ratings at OMEA State Concert Band Contest in Class AA for the past 42 years and Concert Band I has received superior ratings in Class A and B for the past 34 years.

Highlights for the Symphonic Band:
Performed at the 50th Anniversary of the Mid-West International Band and Orchestra Clinic in Chicago, Illinois on December 19, 1996.
Invited to perform at the Midwest Clinic again in 2002.
Performed at the1993 and 2001 OMEA State Convention and was the clinician band for the composer Francis McBeth at the 1995 OMEA State Convention, as well as for Mark Kelly in 1989.
Guest band for the Directors' Clinic at Miami University with Donald Hunsburger of the Eastman School of Music and H. Robert Reynolds
from the University of Michigan.
Photo by Lary Lee Photography.
 
Jazz Band
The Jazz Band was the Grand Champion Jazz Band of the Fiesta-Val International Band Contest held in Toronto, Canada in May 1995 and again in May 1996 in Williamsburg, Virginia. The band received Outstanding Jazz Band Awards in 1993, 1994 and 1997 at Music In the Parks competitions.