Marching Band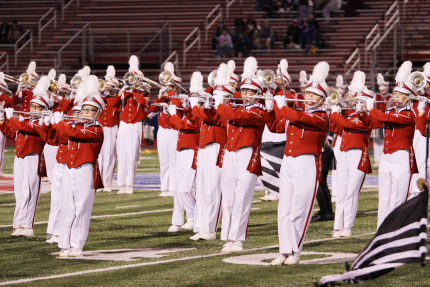 This year's band consists of around 225 outstanding members! With many fine musicians and a great group of leaders, our potential for success is high! This year's band is under the direction of field commanders Benjamin Adams, Caitlyn Bowers, Connor Chaffin, and Xander Hageman.
This year's show is entitled "A Piano State of Mind" It is a musical and visual representation of the music of George Gersh-win, Billy Joel, and Robert Sheldon. Music in the show is Metroplex by Robert Sheldon, Piano Man and New York State of Mind by Billy Joel, and Rhapsody in Blue by George Gershwin. We are excited for this show and know it will be fun for the students, and enjoyable for our audiences. As usual, many fun stand tunes are also in the repertoire to bring the football crowds to life and excite the Grove City Greyhounds (GO DAWGS) to victory!
The Grove City High School Marching Band has won over 100 grand champion awards over the last twenty-five years in OMEA competitions as well as regional and national events. Accomplishments this past season include four OMEA Contest Grand Champions, straight superior ratings at OMEA State Marching Band Contest, straight superior ratings at District and State Concert Band Contests with all three concert bands, and many auxiliary awards during both the fall and winter season.
In past years, our distinguished band program has been seen across the nation at many events: the 2022 Chicago St. Patrick's Parade, Symphonic Band at the 2021 Ohio Band Director's Clinic and 2018 OMEA Professional Development Conference, and the 2017, 2000, and 1990 Tournament of Roses Parades. And of course our great trip to Walt Disney World last March!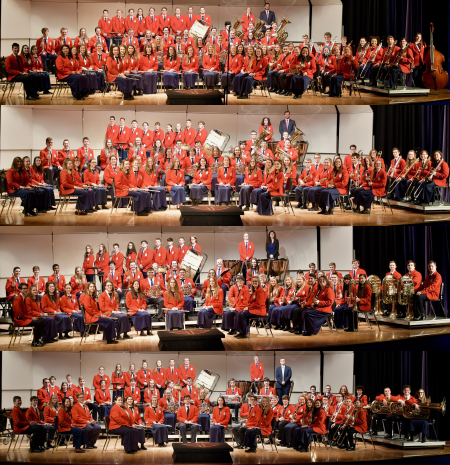 Symphonic & Concert Bands
The concert band program consists of four ability based ensembles and music is selected based on each group; Blue Band, Crimson Band, Concert Band I, and Symphonic Band. The Symphonic Band has consistently received superior ratings at OMEA State Concert Band Contest in Class AA since the inception of state contest in 1970 and the other bands have received superior ratings at all district events and superior or excellent ratings at state contest.

Highlights for the Symphonic Band:
Performed at the 50th Anniversary of the Mid-West International Band and Orchestra Clinic in Chicago, Illinois on December 19, 1996.
Invited to perform at the Midwest Clinic again in 2002.
Performed at the 1993, 2001, 2014, and 2018 OMEA State Convention and was the clinician band for the composer Francis McBeth at the 1995 OMEA State Convention, as well as for Mark Kelly in 1989.
Guest band for the Directors' Clinic at Miami University with Donald Hunsburger of the Eastman School of Music and H. Robert Reynolds
from the University of Michigan.
Photo by Mark Bungart
Jazz Band
The Jazz Band was the Grand Champion Jazz Band of the Fiesta-Val International Band Contest held in Toronto, Canada in May 1995 and again in May 1996 in Williamsburg, Virginia. The band received Outstanding Jazz Band Awards in 1993, 1994 and 1997 at Music In the Parks competitions.