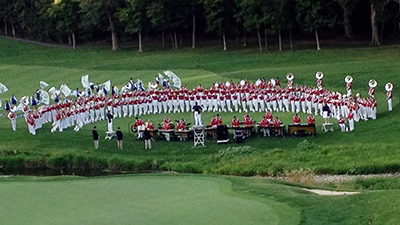 The Pinnacle March is your first look at the Grove City Marching Band in full array. It is a wonderful event, where, for the first time, you see your student marching in full contest uniform across the pinnacle golf course. It is an event that brings tears to the eyes of almost everyone who views it.
This year's Pinnacle March takes place
on August 24, 2017 at 7:00pm.
What is the Pinnacle March?
This is an annual event, now in its sixth year, which takes place at the Pinnacle Golf Club.  The band will march across the golf course to the ninth green, where they will stop and perform for the audience on the hill, that has been anxiously waiting to hear them.  You will need to bring your own seating; blankets or lawn chairs. 
Pinnacle will be providing concessions available for sale. No coolers are allowed.
How do I get Tickets?
Each student will receive four $5.00 tickets to sell during pre-band camp and the money will be due the Friday of that same week. This is an opportunity for students and families to have more time to sell as many as possible. There will be prizes awarded for the top sellers! Tickets will be available for pick up before pre-band camp to allow students and families more time to sell as many as possible.  Watch for emails with those dates!
Each student who sells 10 or more tickets will be entered into the prize(s) drawing! This event is a very important fundraiser for the band and brings in much needed funds for the program. We are hoping to make this event bigger and better each year, but along with that come the very important task of selling those tickets!
Please remember to invite...grandparents, aunts, uncles, friends, neighbors, co-workers, future band families, etc.
This is a fun evening at a very reasonable ticket cost of $5.
If you have any questions, you can text or E-mail This email address is being protected from spambots. You need JavaScript enabled to view it. at 614-499-6767.